About Amberwood BBQ

It all started with a craving for ribs...

For four days every summer, there is a Ribfest held on Sparks Street in Ottawa. These ribs were amazingly tasty and tender. This started my search for a restaurant in the Ottawa area that served comparable smoked ribs. My quest quickly becomes my obsession as I could not find restaurants that cooked their ribs in the Authentic Southern Style.

Nine years ago, I purchased my first cooker and started smoking different foods at home. Along the way, I discovered authentic southern BBQ. It is not a propane grill. It is not boiling or steaming ribs and then smothering sauce and grilling them. And definitely, it is not liquid smoke.

Southern BBQ cooking is referred to as low and slow cooking. Food is cooked at 225°-250°F for many hours over an indirect fire. We use Maple Lump Charcoal and for added flavour,wood chips made from mesquite, apple or oak wood chips are also added.

Our History
BBQ Catering
In 2006, Amberwood BBQ Catering was created to serve real southern BBQ in the Ottawa area and beyond.  We've catered a variety of events such as fundraisers, private parties, corporate events and weddings.  Our food is served fresh and hot right out of our mobile smoker. We prepare all our sides and local products are used when possible.
Competition BBQ
It's flattering that people tell us that our smoked foods are the best that they have had. In order to keep our skills sharp, we compete with our peers. In Canada, there is only one true competition BBQ circuit and it is organized by the Canadian Southern Barbecue Association. The overall points leader of this series of contests wins an automatic entry to the Jack Daniel's Invitational, one of the premier BBQ contests in the world.

The Ottawa leg of the event is held in late May/early June during the Gloucester Fair. Competitors set up the day before and start cooking for the turn-ins the following day. Competitors must turn in for judging: chicken, pork butt (pulled pork), beef brisket and ribs. You are given a ten minute window in which to turn-in your entry. Imagine cooking beef brisket for 10-14 hours to aim for a 10 minute turn-in window.
To achieve judging consistency, the CSBA offers classes to train their judges throughout the year.
Here are pictures of our turn-ins (click to enlarge):
Pork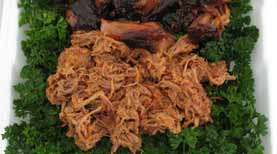 Pork Shoulder (1st Place). Pulled Pork after 12 hours in the smoker. Coming out of the smoker, it may look like a meterorite but the taste is out of this world..
Chicken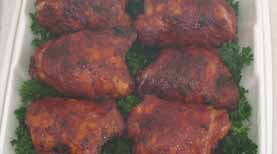 Chicken (3rd Place). One of the challenging parts of cooking chicken at such a low temperatures is achieving crispy skin.